The front panel of the DCS50 Zephyr has a

throttle

knob & direction control lever, indicator lamps & display, which give status indications and operate your railroad.

Before you

select

and run a locomotive, take a few minutes to look at the DCS50's controls and display.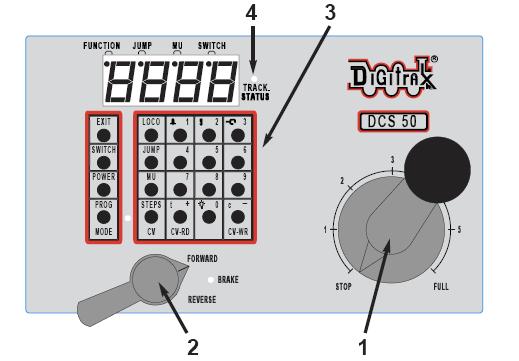 1.
The
Throttle
Knob is the large silver and black knob on the right side of the DCS50. The
Throttle
Knob controls locomotive speed from STOP to FULL speed. Turn it clockwise to increase speed and counter clockwise to decrease speed.
2.
The Direction Control Lever is the small silver lever (located on the left side of the DCS50) that controls the locomotive's direction of travel, FORWARD or REVERSE. This knob also controls the BRAKE. When you have a loco address selected and the Direction Control Lever lever is in the BRAKE position, the Brake Indicator Dot will blink until the loco stops and then remain on steady to let you know that the BRAKE is on. When you move the lever to FORWARD or REVERSE, the Brake Indicator Dot will flash to let you know that the brake is released and the loco is accelerating to the speed shown on the
Throttle
Knob.
3.
There are 20 KEYS on the DCS50's keypad, including a full numeric keypad for direct entry of numerical values. Some keys have more than one use when used in combination with other keys or sequences of keystrokes.
4.
The Track Status Indicator Dot is lit when track power is on and unlit when track power is off. Track power must be on to operate the trains on the track. Simply press the POWER key to toggle between power on and off. If you need to stop the whole layout, press the POWER key to turn off track power and put everything on the layout into
Emergency Stop
.