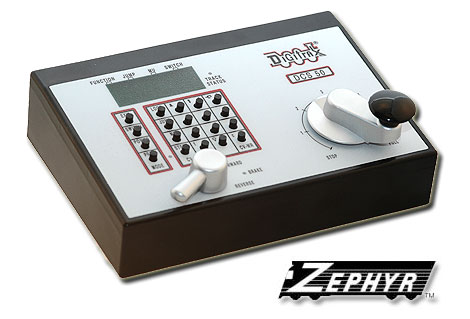 DCS50's Jump A & B ports can host two DC power packs that work as additional throttles to control DCC locomotives.

You begin with an operating DCS50 attached to your layout. In addition to the throttle built into the DCS50, you can create a LocoNet to add additional Digitrax throttles and other Digitrax devices.

Jump Ports:

You can also connect up one or two smooth DC power packs as shown in the following illustration. These power packs must also be powered, since the Zephyr jump throttle connections detect the voltage level from the individual power pack(s) and makes adjustments to the command control signal that is addressed to the locomotive which the jump throttle controls.

Note: Many power packs have automatic pulse injection, which should not be used in this application. Check with the power pack manufacturer if you are not sure. There is no list of appropriate throttles, but, in general, the more expensive the power pack is, the less likely it is that it can be used in the Jump Port application.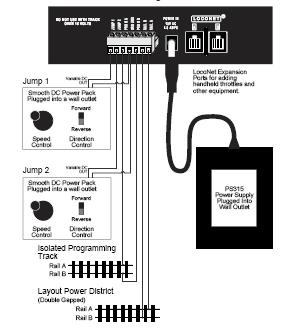 This configuration gives you three throttles to control three loco addresses.

1. The throttle knob and direction lever on your DCS50 is called the Local Throttle.

2. The throttle and direction controls on each of the smooth DC power packs you are using are called respectively, Jump 1 and Jump 2.

3. Press the JUMP key to cycle from the Local Throttle to Jump 1 to Jump 2 and back to the Local Throttle. The Jump Indicator Dot tells you which throttle functions are being addressed by the DCS50 keyboard. These indications are:

No Jump Indicator Dot - the Local Throttle
Steady Jump Indicator Dot - Jump 1
Blinking Jump Indicator Dot - Jump 2

4. The functions for each throttle are controlled by the DCS50's key pad when the Jump Indicator Dot for that throttle is displayed (see step 3).

5. To access function controls for each throttle, simply press the JUMP key to cycle between the three throttles.

6. When the throttle's Jump Indicator Dot for which you want to control functions appears on the display, use the DCS50's keypad to change those functions. The throttle knobs and direction controls for each of the three throttles will continue to control the loco selected on them while you are working with function controls on any of the individual three throttles.