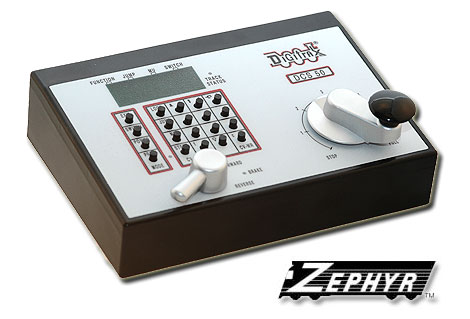 The DCS50 Zephyr normally treats Function 3 as an on/off function unless you set it up as a non-latching function like Function 2.

This means that F3 can be used either as a normal function operating as an "On / Off" switch, or to control a function that only requires a momentary activation like some couplers.

To set up Function 3 as a non-latching function, set the DCS50's Option Switch 6 to closed as follows:

1. Press the PROG key. The last programming mode used by the DCS50 will be displayed.
2. Press the SWITCH key. The display shows the last switch used by the DCS50.
3. Use the numeric key pad to enter 6.

This tells the system that you want to change Option Switch 6, the OpSw that controls whether F3 is latching or non-latching.





4. Press the c/- key to make F3 non-latching. OR Press the t/+ key to make F3 a normal latching on/off function.

5. Press the Exit Key to complete the set up of F3 as a non-latching key. This will make the COUPLER/3 key to operate Function 3 as a non-latching function for this particular DCS50 and any attached Jump™ Throttles.

Other throttles (including other DCS50s) in the system will not be affected.