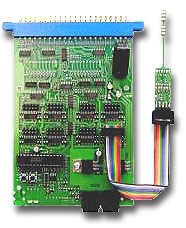 If you want to reset the SE8C to its factory settings, follow this procedure: No track power is required for testing, but you will need a working LocoNet connection and throttle, or a PC running DCC control software that is connected to LocoNet.

a. Press and hold the Option Button until the red LED starts to blink.

b. Release the button, the red and green LEDs will blink alternately indicating that you are in Option Switch programming mode.

c. Go into SWITCH mode on your throttle or PC.

d. Select Switch 20.

e. Close and then Throw the switch to reset the factory settings.

f. Press and hold the Option button until the red LED stops blinking.

g. Release the Option button and the green LED will stay lit.