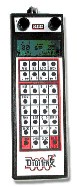 Even though an individual locomotive is part of a consist and you can't control its speed and direction separately from the consist, you can still control its function outputs independently as follows:

1. Press the LOCO Key and select the address of the locomotive that is a part of consist for which you want to control functions.

2. Press the LOCO Key again to select the loco address to your throttle. The speed value will show "cn" to remind you that you can only control functions on the loco and not its speed.

3. Use the steps described above to turn on or off the functions on the consisted loco.

4. When you are finished turning functions on or off for the consisted loco, you can release the consisted loco from your throttle in preparation for running another loco address or you can leave it selected on the throttle.