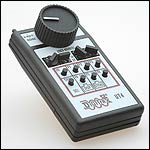 The UT4 comes InfraReady for layouts that are equipped with one or more UR90 infrared receivers.

For Infrared operation:

1. Install one or more UR90 infrared receivers on your layout. These should be connected to LocoNet and powered. If you have UR92s and/or UR91s present on the layout, these also support infrared operation. You will need enough infrared receivers installed on the layout so that the throttles you use can "see" the receivers since the transmission is line of sight. You may also encounter problems in rooms where there are large windows that would interfere with the transmission.

2. Install a 9 volt battery into the unit.

3. With the UT4 unplugged, dial up the 2 or 4 digit address using the 4 rotary address selector knobs.

4. Plug the UT4 into the LocoNet port and wait until the green status light appears (typically in 1-3 seconds).

5. Then simply unplug the UT4 from the Loconet port.

The throttle will automatically shift into infrared operation.

In infrared mode you will be able to control:




To Select a loco to run, to Dispatch a loco from the throttle or to Steal a loco that is being controlled by another throttle you must plug the throttle back into a LocoNet port.