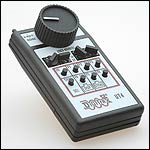 UT4 Sleep Mode is used to extend
throttle
battery life; it does not charge the
throttle
batteries but it does reduce the draw on the
throttles
' batteries.
To put the UT4 to sleep, press and hold any function key down and turn any address selector to the next digit. The
throttle
will go into sleep mode.
The UT4 will release the address that was selected and the status light will briefly turn red.
If the unit is plugged into
LocoNet
port you can unplug the
throttle
and the
throttle
will then be in sleep mode until plugged back in to
LocoNet
port.