Direct Home Wiring:

A wiring system where the DCC booster powers each rail via an individual wire. Each booster is wired to it's own track power section and there is no electrical connection between boosters. This means that each power district is double gapped and is connected to it's own booster. The boosters are in turn connected via LocoNet to the command station providing one source of commands for the entire layout.

Digitrax recommends using only Direct Home Wiring for all Digitrax layouts.

Non command control layouts typically use common rail wiring as part of their control method. This means that one rail is common throughout the railroad while the other rail is divided up into segments for train control purposes.

Digitrax command control layouts do not need to be divided up for train control purposes. The command station sends commands on the rails to the decoders in the locomotives and stationary decoders on the track to control the layout. This is what we mean when we say "Run your Trains, Not your Track!"

Digitrax layouts DO need to be subdivided for power distribution purposes. Each locomotive and stationary device consumes electricity, and as a model railroad grows, the power consumption also grows. As the power needs rise, additional boosters provide the additional power necessary to operate the railroad.

Each booster has its own power supply, and is connected to the command station by means of LocoNet.

In order to provide enough power to run your railroad, you will divide it up into power districts that are electrically isolated from each other.

Please see the illustration below: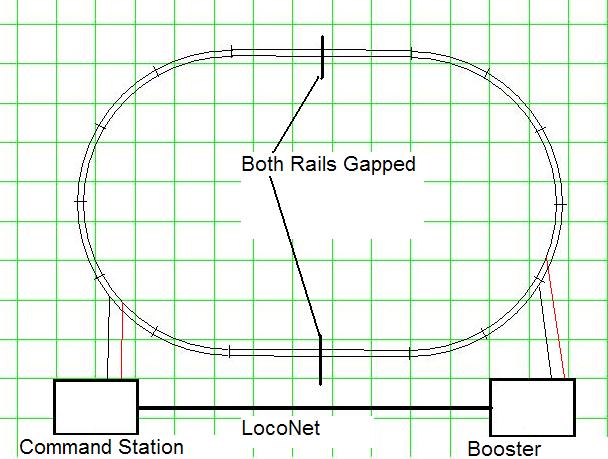 In this situation, the railroad is divided in halves, with the dividing gaps being at opposite sides of the layout; both rails are gapped at both points. Each half of the layout is called a power district.

The command station and booster are connected to their own power supplies and connected to each other via LocoNet.

Additional boosters are connected in the same way to their respective power districts, which are isolated in the same way.