Operations mode (OPs mode) programming allows you to program decoders on the layout instead of having to move them to a separate programming track. This is a write only programming method.

If you want to be able to read back the values written to a particular decoder using Ops Mode programming, you will need to install transponding on the layout. If transponding is not active on the layout, you must use an isolated programming track for reading back CV values.

The extent of the area with OPs Mode readback available depends on how muchof the layout is instrumented for transponding.

The minimum equipment required to create a layout where OPS read back is available is a Digitrax Command Station, BDL168 Block Occupancy Detector, RX4 Transponding Receiver, DTxxx or equivalent throttle connected to the LocoNet, and mobile decoders with OPS mode capability.

Note: All Digitrax series 3 and later decoders have OPS mode capability

This diagram shows the minimum equipment required for OPS read back.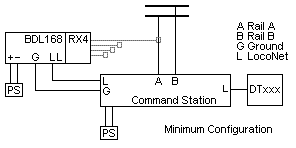 In this drawing, the BDL168 is only being used in its capacity of a RX4 host and LocoNet message handler for a single power district.

The following diagram shows how to expand the minimum equipment configuration for a layout with multiple power districts.


Note: In this application the block occupancy feature of the BDL168 is not used.