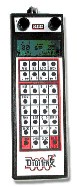 DT400/R's are shipped from the factory with tetherless release disabled.

This prevents you from accidentally touching the LOCO Key and entering address selection while you are running your throttle in tetherless mode.

DT400 can be set up to allow locos to be released from the throttle when it is in tetherless mode (IR or radio) by setting DT400 Option #3 according to the following table.
Op#3
Value (hex)

Backlight
Brightness

Clock
Format

Recall Stack Depth

Tether- less Release

x00

Off

12 hour format

4

No

x01

Low intensity

12 hour fomat

4

No

x02

Medium intensity

12 hour format

4

No

x03

High intensity

12 hour format

4

No

x04

Off

24 hour format

4

No

x05

Low intensity

24 hour format

4

No

x06

Medium intensity

24 hour format

4

No

x07

High intensity

24 hour format

4

No

x08

Off

12 hour format

4

Yes

x09

Low intensity

12 hour format

4

Yes

x0A

Medium intensity

12 hour format

4

Yes

x0B

High intensity

12 hour format

4

Yes

x0C

Off

24 hour format

4

Yes

x0D

Low intensity

24 hour format

4

Yes

x0E

Medium intensity

24 hour format

4

Yes

x0F

High intensity

24 hour format

4

Yes

x10

Off

12 hour format

8

No

x11

Low intensity

12 hour format

8

No

x12

Medium intensity

12 hour format

8

No

x13

High intensity

12 hour format

8

No

x14

Off

24 hour format

8

No

x15

Low intensity

24 hour format

8

No

x16

Medium intensity

24 hour format

8

No

x17

High intensity

24 hour format

8

No

x18

Off

12 hour format

8

Yes

x19

Low intensity

12 hour format

8

Yes

x1A

Medium intensity

12 hour format

8

Yes

x1B

High intensity

12 hour format

8

Yes

x1C

Off

24 hour format

8

Yes

x1D

Low intensity

24 hour format

8

Yes

x1E

Medium intensity

24 hour format

8

Yes

x1F

High intensity

24 hour format

8

Yes

x20

Off

12 hour format

16

No

x21

Low intensity

12 hour format

16

No

x22

Medium intensity

12 hour format

16

No

x23

High intensity

12 hour format

16

No

x24

Off

24 hour format

16

No

x25

Low intensity

24 hour format

16

No

x26

Medium intensity

24 hour format

16

No

x27

High intensity

24 hour format

16

No

x28

Off

12 hour format

16

Yes

x29

Low intensity

12 hour format

16

Yes

x2A

Medium intensity

12 hour format

16

Yes

x2B

High intensity

12 hour format

16

Yes

x2C

Off

24 hour format

16

Yes

x2D

Low intensity

24 hour format

16

Yes

x2E

Medium intensity

24 hour format

16

Yes

x2F

High intensity

24 hour format

16

Yes