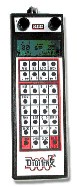 Some users prefer to "dispatch" or release all addresses active in their system before shutting down.
This can prevent unexpected results when you power up the layout again.
1. Turn track power off:
Press the PWR Key followed by the N - Key , the Track Power Indicator on the DT400 and the Track Status Indicator on your
command station
will go off.
2. Move the
command station
's "MODE" switch to the "SLEEP" position.
3. Turn off the
power supply
to the system.
The power to the
command station
can be left on all the time if desired. In "sleep" mode, the
command station
consumes very little energy.
In this state the
command station
provides keep alive power to all
throttles
that are connected to
LocoNet
.