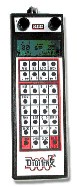 If you are operating in a show environment where there are other model railroads operating which use Digitrax wireless throttles, you must insure that your railroad's LocoNet ID is different from others that are also present.

Your throttle will log on to the LocoNet ID offered by compatible infrared or radio receiver it sees when plugged in to LocoNet.

The default LocoNet ID is 00.

It may be necessary to change the LocoNet ID if more than one club is operating in close proximity at a train show so that the commands sent by one club will not interfere with the commands sent by other clubs.

In many cases, the show coordinator will advise you of the proper LocoNet ID to select.

To change a LocoNet ID:

1. Disconnect the throttle from the LocoNet for which you want to change the LocoNet ID.

2. Press and hold down the EDIT Key on the throttle and then plug it back in to LocoNet. Release the EDIT Key after plugging in the throttle.

3. The throttle will display E1 in the Mode Indicator and the current LocoNet ID "Ir:0n" or "rA:0n", where "n" is the current LocoNet ID.

Use the R throttle knob to change the LocoNet ID. You can set the LocoNet ID to be any number from 0 to 7.
Example: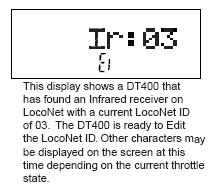 4. Press ENTER Key to set the system to the new LocoNet ID.

5. The throttle used to change the LocoNet ID will automatically log on to the new LocoNet ID.

6. Unplug and reconnect any other infrared or radio throttles that will be used on this system so that they can log on to the new LocoNet ID number and be able to operate on the system.

Note: If you add a new UR90,UR91,or UR92 to the system and are using a LocoNet ID other than the initial default value of 0, you must to re-synchronize the IDs in all the UR90s,UR91s, and UR92st by setting the LocoNet ID as described above.

If you are operating in an area where more than one LocoNet systems is operating nearby, be sure to coordinate with other layouts so that each one has its own unique LocoNet ID before beginning operations.