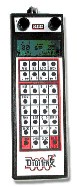 While tetherless, the DT400/R operates as a one-way transmitter.

The DT400/R must be plugged into LocoNet to select an available locomotive address.

After an address is selected on your DT400/R, you can unplug from LocoNet and run the selected addresses with infrared or radio.

The throttle will automatically convert to infrared or radio operation for all speed, direction, function, operations mode programming, and switch commands.

Digitrax uses this safety selection procedure, which requires throttles be plugged into LocoNet to select a loco address to run.

This is an important operational safety feature.

Digitrax chose not to allow one way address selection to prevent multiple operators from being able to select and send commands to the same addresses at the same time.

Having multiple operators sending commands to the same address can result in serious problems in an operating session because locos can appear to be out of control.