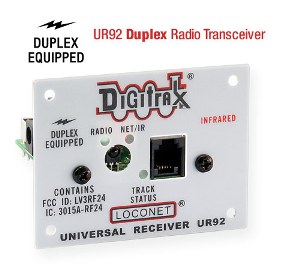 Troubleshooting Your Installation

To get the best performance out of your duplex radio installation, walk around the layout and check Duplex operation to ensure complete signal coverage.

Depending on the layout size and geometry and surrounding materials it is often possible to move the UR92(s) to better cover dead-spots.

Experimenting with UR92 location usually will quickly provide a position that is best for most layouts.

Note that DT402D orientation and your body position may also affect range and reception.

On very large layouts or layouts with problem areas, it is possible to add more than one UR92.

Adding extra units will automatically provide space-diversity coverage and reliability.

Adding multiple UR92s is covered in the Advanced Installation and Customization section of these instructions.

If duplex range is poor, it may be due to interference from e.g. a Wireless LAN or similar device operating continuously on the same channel#.

The next section gives several methods to change the duplex channel# to avoid interference or congestion.