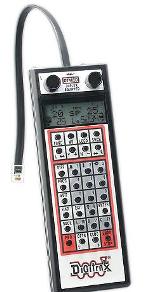 For normal tethered operation, the DT402 series

throttles

do not need a battery.

To use your DT402/R/D as an infrared or radio

throttle

, you must install a 9 volt battery.

When you install the battery, the

throttle

will report the battery voltage then show the last display screen.

We recommend that you remove the battery from

throttle

if it is unplugged from the system to conserve battery life.

The battery can be stored inside the DT402/R/D by removing the battery and putting it back in the battery compartment with the

polarity

reversed.

Be careful here, see the diagram below for proper orientation.