The DigiGroupSetup utility is in a ZIP file which is provided for Digitrax customer convenience and can be downloaded from our downloads page.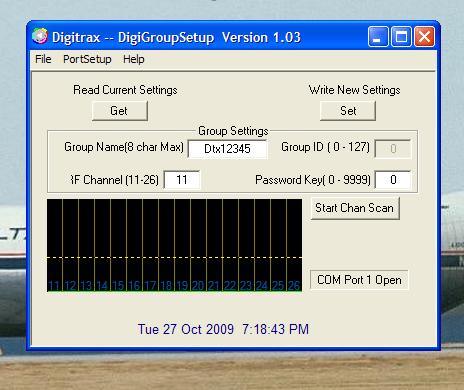 Read Me Text File with DigiGroupSetup

This utility is provided on an as-is basis for users with a Windows based machine configured to work with this software, and the ability to perform the setup and operation tasks detailed below.

Techsupport is not configured to diagnose issues related to operating system, hardware, configuration or other possible problem areas that may cause problems with running these utilities.

DigiGroupSetup:

This program allows convenient Duplex system setup for any UR92 on LocoNet

a) Copy this DigGroupSetup.exe file to a convenient Windows Folder on your PC that you can run from.

b) Connect a UR92 to be edited to LocoNet

c) Connect the PC to LocoNet via a:


PR3 (USB-> Com)

or MS100 (COM port)

d) Start the DigGroupSetup program, and use the "Portsetup" menu to select the correct LocoNet port that is connecting the PC to LocoNet.

e) If the software can detect a UR92 on LocoNet you can use the "Get" button to read the current Duplex Group Name, RF Duplex Channel and the Password (a Password value of 0000 disables Password usage). You can edit any of these settings and then use the "Set" button to download these values to any UR92(s) connected to LocoNet. The "start channel scan" allows you to use the UR92 to make a quick scan of the available channels to see how much signal (and possibly interference) may be present at your location. The graphics show the peak signal and average detected while you let the scan run. This may be useful in helping you setup your layout for best Duplex performance.

This Digitrax copyrighted (c) utility and software is provided on a free non-commercial basis with no warranties expressed or implied for Digitrax customers to use on their layouts. All rights reserved.