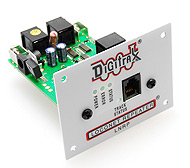 I have purchased an LNRP, UR90, and 4 UP5s.

I have noticed the LNRP seems to have a solder point between the two LocoNet jacks as the UR90 and UP5.

Can all of these be connected to the same 12 volt power supply?

No.

It is important that each LNRP has its own power supply.

As noted in the documentation that comes with the unit, "the LNRP drives the power and Railsync signals on the standard LocoNet cable segments, so each LNRP should have a DC input of +12V to +18V at up to 250mA supplied on the side DC power jack."

Digitrax recommends a PS14 power supply for the LNRP.