I've recently purchased a DCS50 system to run my HO trains.

Since I'm new to the hobby I'm throughly confused on what parts I need to wire my 4 x 8 foot track to my control box.

How many feeder lines do I need and what size do you recommend, and how do I hook these up to my control box?

What size does bus wire do I need and how do I connect all this to my system?

So far, all the articles just make recommendations general terms without specifics.

I have purchased 2 terminal clips but have yet to see any wiring diagram.

In part, specific recommendations are hard to come by because every model railroad is different.

To be sure, they have some commonalities, but there are also differences based on your individual tastes.

For the moment, we'll keep this very simple.

The DCS50 Zephyr is a great unit; it offers as much as the Super Chief or Super Empire Builder, and everything is in one package.

You will need a flat space to set up your track layout.

The Zephyr is connected to the track, using terminals Track A & Track B and typical model railroad wire, which is usually "20-Gauge stranded":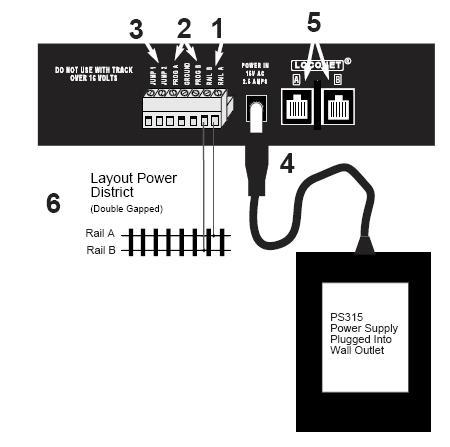 You connect the PS315 power supply into the back of Zephyr also, and plug it into a household receptacle.

You then take your locomotive and place it on the track.

You then select your locomotive with Zephyr.

Press the LOCO key on Zephyr to begin the selection process.

The LED will begin flashing either "Loco"