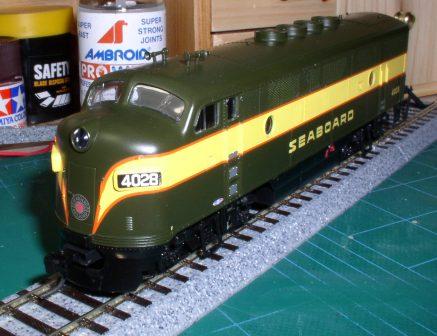 My son & I have PROTO 1000 Diesel EMD F3A-B Sets.

The powered locos are equipped with an eight-pin plug for easy decoder installation.

Our problem is that we've been looking through books & have no idea what sound card & speakers we are going to need that corresponds with these type of locomotives.

I was told that they would need sound cards that are from the "Early Diesel" era.

If this is true, please tell me what sound cards,speakers & wires do we need to make this happen?

We are fond of F-units, and the Proto 1000 F-units are particularly nice since they have properly captured the nose contours of the EMD F.

Adding DCC and adding sound will be easy.

The DH165L0 has pins which correspond to the medium 8-pin plug in the Proto 1000 unit.

The SFX006 Soundbug is designed to fit into the DH165 series decoders with SFX004 Soundbug Socket.

On board the Soundbug several diesel and steam sounds which you may find to be sufficient for your needs.

Those sounds are the GP38, GE, GP10, SD70, RS1 and C420 and 2 steam sound files.

Should you want to customize the sounds, this can be done with the PR2 and SoundLoader.

Further information is located in the sound depot on our website.

Your dealer may also be able to help, either with their own PR2 and SoundLoader or by putting you in contact with an individual who has this device and program.

By itself, the speaker of the Soundbug is not powerful and will need to be mounted in a baffle.

This baffle creates a resonating chamber for the sounds, making them stronger and audible.

There are several commercially made ones which will suit your purposes.

Others have used a 35mm film cannister for this purpose, but given the current state of film photography, finding such a cannister may prove to be difficult.

Looking inside one of our F-3's, there appears to be room at the back of the locomotive, but some ingenuity may be required to make it fit.

Many of the sound equipped locomotives have different frames from their non-sound equipped brothers, with special areas designed to mount the speaker and baffle.

Converting a non-sound frame may require some cutting and fitting, but you may also find a speaker which is designed to fit into such situations.

The Soundbug will drive a speaker between 8 Ohms and 32 Ohms, but appears to do a better job with the 8 Ohm types.

At this writing, sound is still in development by several different manufacturers and, presumably, things will get better with time.