One special feature on the Texas & Southwestern is a built-in programming track.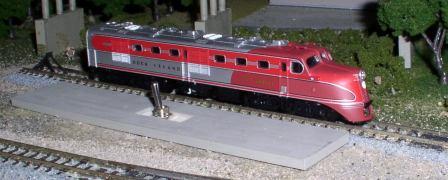 The programming track is located in a short section of track in the small engine terminal of the T&SW. This track has both rails insulated from the rest of the railroad. It uses a Double Pole Double Throw (DPDT) toggle switch to select what purpose this section of track is used for. When the toggle switch is set in one direction, the track has DCC power on it. When the toggle switch is aligned in the other direction, the track is now connected to the programming terminals of the Zephyr. The diagram below shows how the programming section works:
Note: The wire colors shown are for illustrative purposes only.

Many thanks to Mr. Riley O'Connor for sharing the Texas and Southwestern with us.