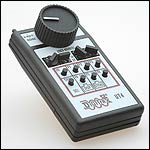 My club uses UT4R radio throttles.

At the end of the session they ask that the battery be reversed in the throttle housing to "extend battery life".

This effectively reverses the polarity of the battery in the throttle.

Is this step necessary?

Is there any drain on the battery when the throttle is not in use?

If there is a drain, should the battery then be removed for storage?

So my question is: How should you store a UT4R so as not to drain the battery when the throttle is not being used?

The throttle batteries will indeed drain if the battery remains in the normal position, even though the railroad itself is not in operation.

Many Digitrax users reverse the battery when it is not in use to preserve the life of the battery.

Doing so in this way also means that there will be a battery available when they pick up the throttle the next time.