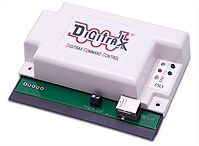 The Mode Switch: The Mode Switch next to the Green LED is used to toggle back and forth between MS-100 mode and PR2 Programmer Mode.

The Green LED will wink once per second if in the MS-100 Mode or toggle every second when in the PR2 sound programming mode.

The Loconet Termination Switch: The switch next to the error LED is used only in MS-100 mode to activate the Loconet current source termination feature.

This switch is active ONLY when a command station is NOT connected to the Loconet and the red LED is solid on indicating there is no command station connected.

NOTE: Do not turn on the Loconet termination mode AND connect to a command station at the same time.

To turn on the Loconet termination mode, press and hold the switch for at least 2 seconds then release.

The red LED should go off indicating the Loconet termination mode is working.

If the red LED is blinking, then the PR3 DC power is not connected or is too low.

To exit the Loconet termination mode, press and hold the switch for 2 seconds and then release.

Factory Default Setting: Pressing and holding both switches for 5 seconds or longer will reset the PR3 to its original factory settings (MS-100 mode with Loconet termination off).

The bi-color LED will toggle between red and green a few times to indicate that the default settings were taken.

Refer to the table below for an explanation of LED indicator status meanings.