DN163A0 is a board replacement decoder for Atlas N-Scale GP40-2, GP38 U25B, SD35, Trainmaster, B23-7 and several others.

Shown here is an installation in a GP40-2.

1. Carefully remove the locomotive's shell from the frame.

Notice the orientation of the light board inside so that you can install the decoder in the same orientation.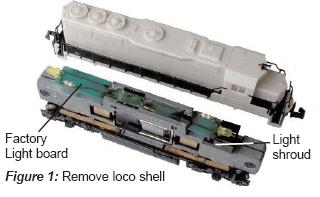 2. Carefully remove the plastic light shroud at the front of the loco and loosen the frame screws enough to allow the removal of the light board.

Lift the board out of the frame.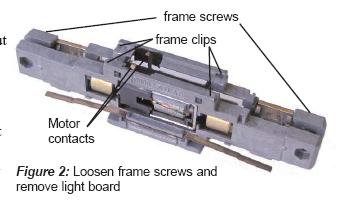 3. Install the decoder, square CPU to the top, between the frame halves.

The narrow part of the decoder fits between the frame with the frame clips holding it at the corners of the decoder cutout.

The brass motor contacts should contact the pads on the bottom of the decoder (see installation tip, below).

Squeeze the frame halves together to hold the decoder in place.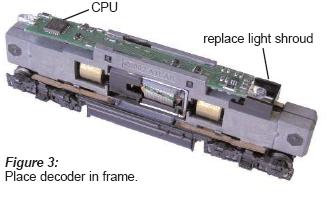 4. Tighten the frame screws.

Replace the trucks if they have fallen out during the installation of the decoder.

Place the locomotive on the track, select address 03 on your throttle and apply power.

If the motor does not respond but you can control the lights, check the installation for motor open circuits.

5. Replace the locomotive shell.

Digitrax decoders are set up with configuration variable (CV) default values so you can run your locomotive right away using address 03.

In addition to changing the locomotive's address, other CVs can be adjusted, customizing your locomotive's performance characteristics.

Installation Tip: The Atlas locomotives that the DN163A0 is designed to convert use two small metal tabs to conduct electricity from the Factory light board to the motor.

When replacing the analog board with the DN163A0, you may find that these tabs do not correctly align with the decoder.

This is because of Factory production variations that seem to slightly change with each locomotive.
In many cases, the tabs can be slightly bent to align with the conducting points on the decoder.

Many Digitrax users have found that it is easiest to solder short wires to these tabs and then to the DN163A0.

Wire cutoffs from other other decoder installations seems to be the best choice.

It is important that you use insulating tape to insure that these tabs and their solder connections do not touch any part of the locomotive frame.

Failure to do so may result in damage to the decoder.