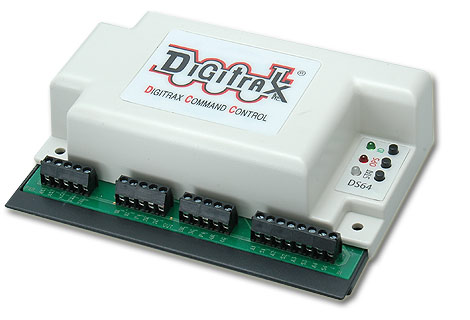 The DS64 is a powerful stationary decoder.

If you have tried to program this stationary decoder and are having problems, there are several things that you can do before contacting Tech Support for further help.

Is the DS64 receiving enough power?

The DS64 can be powered in several different ways.

Although it is possible to power the DS64 from track power, this has been a source of problems for many operators due to low voltage.

This typically arises on a railroad that is using power in excess of the capacities of its power supplies.

Have you programmed all four addresses of the DS64?

The DS64 controls 4 individual turnout machines.

All four addresses of the DS64 must be programmed, even if you have less than four turnouts connected to the DS64.

If you have only 3 turnouts on a DS64, to complete the 4 point programming you have to input a "phantom" turnout number to complete the programming cycle.

Have you tried to reset the DS64?

The DS64 is reset using Option Switch 7 (OpSw7).

If you have tried resetting the DS64 by closing Option Switch 7 and that has not worked for you, please try resetting the Digitrax system (DCS50/51, DB150 or DCS100/200) by closing Option Switch 39. To reset DCS52, DCS210 or DCS240 close Option Switch 40.

Be aware that this action will completely reset your Digitrax system to its factory settings.

If both of these attempts fail to solve the problem, please contact Tech Support for further assistance.