At first glance, the typical switching railroad would not seem to be a good candidate for DCC operations.

Yes, there may be only one locomotive on many of these railroads, but that locomotive can still benefit from DCC.

By adjusting the starting, mid-range and maximum speed values of this locomotive, you get very good slow speed control, perfect for the switching railroad.

And, of course, if you add a second locomotive, then DCC becomes the clear choice because you are not longer having to throw toggle switches just to move around the yard.

The DCC environment also gives you turnout control from your throttle, another time and effort saver.

Southside Connecting

The Southside Connecting first appeared in Six H0 Railroads You Can Build.

Written by John Armstrong, illustrated by Tad Stepek and published by Atlas Tool Company in 1958, the Southside Connecting has all the elements of a dense city freight operation.

Most likely, the Southside Connecting would have only one locomotive, and even with sound, the power needs of this railroad are not great.

The typical H0 locomotive draws 600 MA, well within the limits of the DCS50 Zephyr.

The railroad has ten turnouts, so you would need three DS64's, but on such a narrow railroad, remote controlled track switches seems odd.

And, since you are walking along with your locomotive, tetherless operation makes sense.

Since the railroad is small, infrared would be satisfactory, requiring only a throttle such as the UT4 and the UR90 Infrared Receiver Likewise, the turntable at one end of the railroad might require an AR1 autoreverser.

Or it might not.

The turntable is mostly present to act as a "turnout" rather than as a device that rotates locomotives.

To be sure, it might be used to turn a car around that could be unloaded from one side only, but all in all, the turntable probably does not need autoreversing.

But adding the AR1 later would be very easy if you need it.

Narrow Switching Railroad for Tight Spaces (Plan 205)

Track Plan 205 first appeared in Custom Line Layouts.

Again, another great book written by John Armstrong, illustrated by Tad Stepek and first published by Atlas Tool Company in 1957, this interesting track plan is a bit larger than the Southside Connecting, but also features more interesting operation opportunities.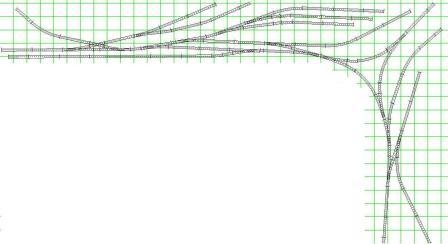 Because this railroad is larger than the Southside, you are more likely to have two or even three locomotives, making DCC a better choice.

The power consumption issues would still be within the realm of the DCS50 Zephyr, and DCC would give you the superior slow speed performance a switching railroad needs.

Again, tetherless operations would improve this railroad.

At least one track switch could use remote operation: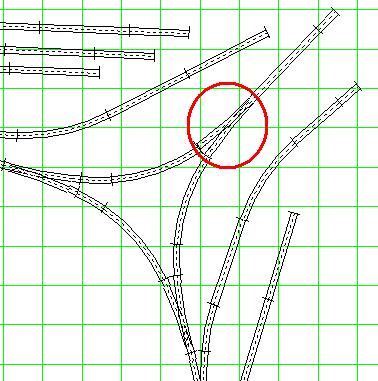 Because this turnout is the third leg of a turning wye, and because it is a bit further from the edge of the layout, this is a natural location of a Tortoise switch machine controlled by a DS52.

The DS52 gives you DCC control; the Tortoise machine's contact points would be used to control the rail phase in the stub of the wye.

Otherwise, you could locate control buttons on the railroad's fascia to control this one turnout, with all others remaining hand thrown, perfect for a switching railroad.