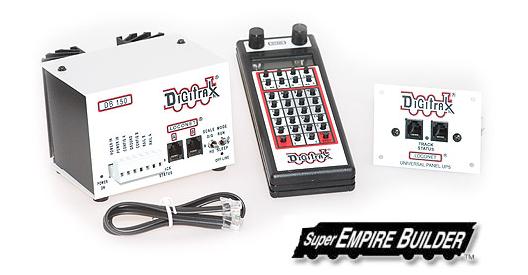 Your Super Empire Builder Starter Set contains:


The

DB150

, which is the system's DCC

command station

. It generates the DCC signals that control decoders and other devices on your layout. The DB150 is also a DCC

booster

. Boosters receive DCC signals from the

command station

, amplify them and put them on the track along with the power from the transformer to run the locomotives. You can have several boosters on your layout to provide additional power to run more locos.

Depending upon the set, there is either a

DT402

or

DT402D

(duplex radio

throttle

), which is the DCC

throttle

that comes with the Super Empire Builder. DCC

throttles

are the hand-helds you use to tell the

command station

what you want the decoders to do. You will probably have several

throttles

on your layout if you have more than one person running trains at a time.

Depending upon the set, there is either a

UP5

Universal Panel or

UR92

Transceiver Radio for memory walkaround operation or tetherless infrared or radio operation.


LT1

LocoNet

& Decoder Tester.

In addition to your Super Empire Builder you'll need:


A

power supply

(you many be able to use one you already own)


One or more mobile decoders for your locomotives. This gives you the flexibility to choose the "right" decoder for your locos.