BT2

Buddy Throttle This product has been replaced by the Utility Throttle with 4 Digit Addressing and Infrared Capability (UT4) and is no longer available. Click here to view the UT4.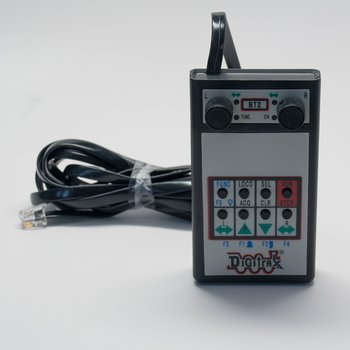 The BT2 was a simplified throttle with limited capability designed to get people up and running quickly.

BT2 "Buddy Throttle" was discontinued in 1999.

As of 11/28/2005 it is no longer repairable due to unavailability of repair parts.
BT2 Features:
Loconet Throttle
128 speed step operation
LED indicators show throttle status at a glance
Use either Knobs or buttons to control speed
Encoder Knobs
Can control a dispatched universal consist
Can control functions F0-F4
Specifications
Replaced by

UT4 Seies Throttles
Product Support
Supporting Documentation
Tech Support Depot