PR1

Computer Decoder Programmer-Serial This product has been replaced by the SoundFX Serial Port Decoder Programmer (PR2) and is no longer available. Click here to view the PR2.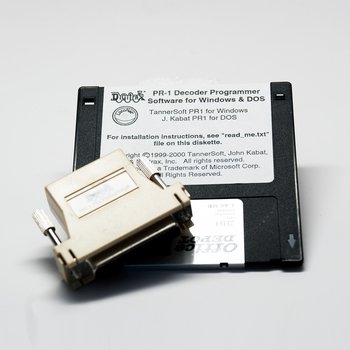 The Simplest Way to Program Your Digitrax Decoders Yet: Digitrax PR1 Decoder Programmer and your PC! The PR1 is a low cost IBM PC-based Advanced Programmer developed by Digitrax to give you a more convenient (and less cryptic) method of programming decoders.

Retired in 2006
PR1 Features:
With the PR1 software's graphical capabilities you can "draw" loadable speed tables and send them directly to decoders via the PR1 and the programming track.

You can also read back a decoder's speed table via the PR1 to the same graphical display.
Save decoder information on your computer. This makes it simple to load the same speed table into several different decoders.
Point and click programming for many advanced options. The software automatically loads the CV value based on your choices.
Point and click programming for stationary decoders like the DS54, too!
Note: The PR1 works with Windows 98 and prior
versions only. PR1 is not guaranteed to work with later versions of
Windows.

PC Compatibility Note: Because of differences in hardware used for personal
computers, PR1 is not guaranteed to work with all PCs.
Specifications
Product Support
Supporting Documentation
Tech Support Depot
Downloads