DB200 OPTO

8 Amp DCC Opto Booster This product has been replaced by the Single 3/5/8 Amp AutoReversing DCC Booster that is Opto-Isolated for layouts with common rail wiring (DB210-OPTO) and is no longer available. Click here to view the DB210-OPTO.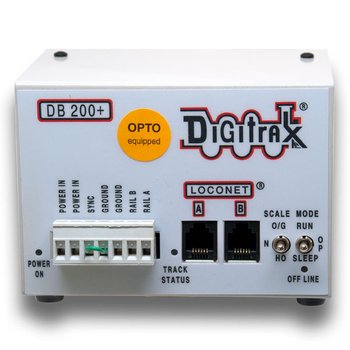 DB200 OPTO 8 Amp Booster gives you 8 amps of power to run more trains, manage short circuit shutdowns and add automatic reversing to your Common Rail Wiring Layout.
Great for adding more power to layouts running many locos or large-scale locos.
DB200 OPTO 8 Amp Booster is a booster only, it must be used in conjunction with a command station to work.
Beef up your your Common Rail Wiring Layout!
DB200 Plus 8 Amp Booster:
8 Amp AutoReversing DCC Booster ( No command station ability)

Opto-Isolated for layouts with Common Rail Wiring

Provides additional power to run more trains

Can be used as an Auto Reversing Booster

Auto resetting over temperature & short circuit protection.

User selectable multi-scale operation for N, HO, and large-scale layouts

LocoNet for easy plug 'n play installation and system expansion

Track Status indicator shows voltage and signal type (DCC or "Zero Stretch" Analog Signal for conventional operation.)

Stabilized Track Drive Output.

Over Voltage Protected.

Auto shutdown if command control drive signal is lost so that the layout will not convert to DC operation if a cable or connection is broken. The trains won't just "take-off" if they are not getting the DCC signal.

Complies with FCC Part 15, Class B RFI Requirements.

DCC Compatible.
Note: Accepts either 50/60 Hz AC or DC input from power supply (sold separately). Recommended power supply: Digitrax PS2012 or equivalent. Maximum input 22 volts AC or 28 volts DC Minimum input 12 volts AC or 12 volts DC.
Technical Note About DCC Booster Output Ratings: Digitrax boosters have maximum output current limits of either 5 or 8 amps. The actual continuous output current that your booster will provide to the layout depends on several factors including the input supply voltage, the ambient room temperature and air flow over the booster's heat sink. Higher input voltages increase the amount of heat that must be dissipated by the booster's heat sink. If the heat sink does not get enough air flow to allow for heat dissipation, the booster will eventually reach an over temperature state and shut down. A small fan blowing across the heat sink on your booster will increase the maximum sustained current output capacity of your booster.
Each DCC company specifies the output capacity of its boosters according to their own internal standards. Tests designed and performed by several model railroaders have shown wide variations in the actual output capacity of DCC boosters. In most cases the tests were designed to overload boosters and cause them to shut down. The conclusion based on these tests is that each manufacturer uses a different way of determining booster output capacity, Digitrax tends to be more conservative in stating booster output ratings. The factor that is most important for achieving maximum output capacity is the booster's heat sinking ability. In these tests, Digitrax boosters have demonstrated excellent heat sinking capabilities and the ability to consistently output the advertised 5 or 8 amps when appropriate fans are added in high temperature situations.
Specifications
For Use With

PS2012 Power Supply

Original Release Date

02-20-2006

Original Release Date

1998

Warranty

No Worries Warranty (read more)

Digitrax gives a one year "No Worries" Warranty against manufacturing defects and accidental customer damage

on all Digitrax command stations, boosters, throttles, decoders, power supplies and layout control devices.

That's it! A simple, straightforward warranty with no tricky language!

---

Repairs are simple, too! Just fill out the form and return your items directly to Digitrax for repair. We'll get them fixed up and return them to you as quickly as possible. Please DO NOT return items for repair to the place of purchase.

Make Sure Your Item Needs To Be Repaired Before Sending It To Us! Many of the units we receive for repair do not need any repairs at all. Before you send any units for repair, please take a few minutes to review our Support Options.

1. Check the Tech Support Depot for help. Search for troubleshooting guides.

2. Click here to send Digitrax Tech Support a message.

Please give your name, e-mail address, phone number and when is the best time to contact you. Please give a complete description of the issue you are having.

Many problems are easily resolved by contacting Digitrax Tech Support without having to send in your unit.

Note: Some Digitrax products are no longer repairable due to unavailability of repair parts. Un-repairable items will be returned to you at no charge with no repairs made.

Please Note: Most of our products are not user serviceable. If a defect or accidental damage occurs, return the unit directly to Digitrax for service. Please do not open the Command Station/Boosters (except for making voltage adjustments or changing batteries per the manuals). Please do not remove the shrink wrap protective sleeves from the Digitrax decoders. Shrink may be peeled back to expose pads for adding function wires.

Accessory items that are not covered under the No Worries Warranty carry a 90 day warranty against defects in materials and workmanship. This includes speakers, wire, cables, battery covers, etc.

Intentional damage and customer modifications outside the scope of instructions provided with the product are not covered by this warranty.

Do NOT send a locomotive with your decoder. If a locomotive is sent to Digitrax, Digitrax will ship the entire package back, unrepaired.

Booster Current Rating

8 Amps
Product Support
Supporting Documentation
Tech Support Depot